CURRICULUM VITAE
Lars Mackel, born in 1970, is a partner at match.IT and works as a freelance management consultant specializing in entrepreneurial marketing, business research, CRM, business model evaluation, and company valuations.
He studied entrepreneurship in Karlsruhe and then studied for an MBA at TU Chemnitz focusing on relationship marketing and CRM.
Since 2012 he has also been working as a lecturer at the Baden-Württemberg Cooperative State University (DHBW). Until leaving to set up his own company, an e-business and internet agency, he spent twenty years working as a managing director in the software and IT sector. This included founding and managing a network systems vendor in its initial phase from 1995, which then developed further into a software engineering company in 2005.
His specialisms consistently included designing customer-oriented applications such as CRM, customer retention and management systems, and implementing projects such as cloud solutions or apps. His main interest has always been customer relations, customer value, and customer equity.
Today his specialist interests lie in assessing and evaluating companies and their business models, value proposition, and corporate value. As a partner at match.IT he is responsible for southwestern Germany, an area with which he is very familiar thanks to many years of experience working in the technology region of Karlsruhe.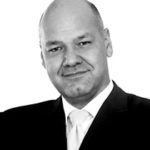 CONTACT
Lars Mackel, MBA
match.IT GmbH
D – 66119 Saarbrücken
Phone number: +49 681 41 09 70 60
Fax: +49 681 41 09 70 69
Mobile: +172 72 07 54 6
Email: L.Mackel@match-it.biz